Support For Your Natural Hair Color
‍ With D-Calcium Pantothenate, Folic Acid and Biotin
‍ Great Source of Copper & Zinc
‍ 60 Capsules, 1-Month Supply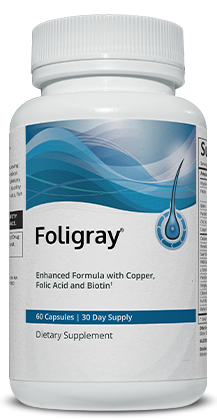 Introduction to Foligray
Whether you're young or old, male or female, the fact of the matter is that graying hair affects everyone at some stage of their lives. Fortunately, there are simple ways to support your body through this process. Introducing Foligray, the nutritional formula for everyday natural hair color support. The Foligray formula is made with a bespoke blend of ingredients designed to provide nourishing support for hair health and pigmentation.
Foligray ingredients featured in:

‍
‍
High-Quality Ingredients
Foligray is made with herbal extracts, vitamins, and minerals, including high-potency vitamin B6, folate, biotin, pantothenic acid and copper.

‍
Great Source of Copper
Copper is an important trace metal nutrient that forms a key part of tyrosinase. Tyrosinase is necessary for the production of melanin (hair color).5

‍
Made in the US
Foligray is made in the US within an FDA registered facility that follows GMP guidelines. Ingredients in the formula are both domestic and imported.
Understanding the Hair Pigmentation Process
Your hair gets its color from a group of pigment molecules called melanin. Specifically for hair color, there are two groups of melanin: eumelanin, which represents darker shades, and pheomelanin that represents lighter shades of hair. The proportion of these two molecule sets determines your hair color. This pigment is contained within cells called melanocytes, which are located in the hair follicles. Melanocytes dye the hair as it is grown from the follicle, consequently resulting in a strand of hair bearing the same color as your melanin make up.1
What tends to happen over time - with aging and normal oxidative or physical damage - is that your melanocytes produce less pigmentation to inject into your growing hair. The lack of pigmentation consequently results in graying or lighter hair color.1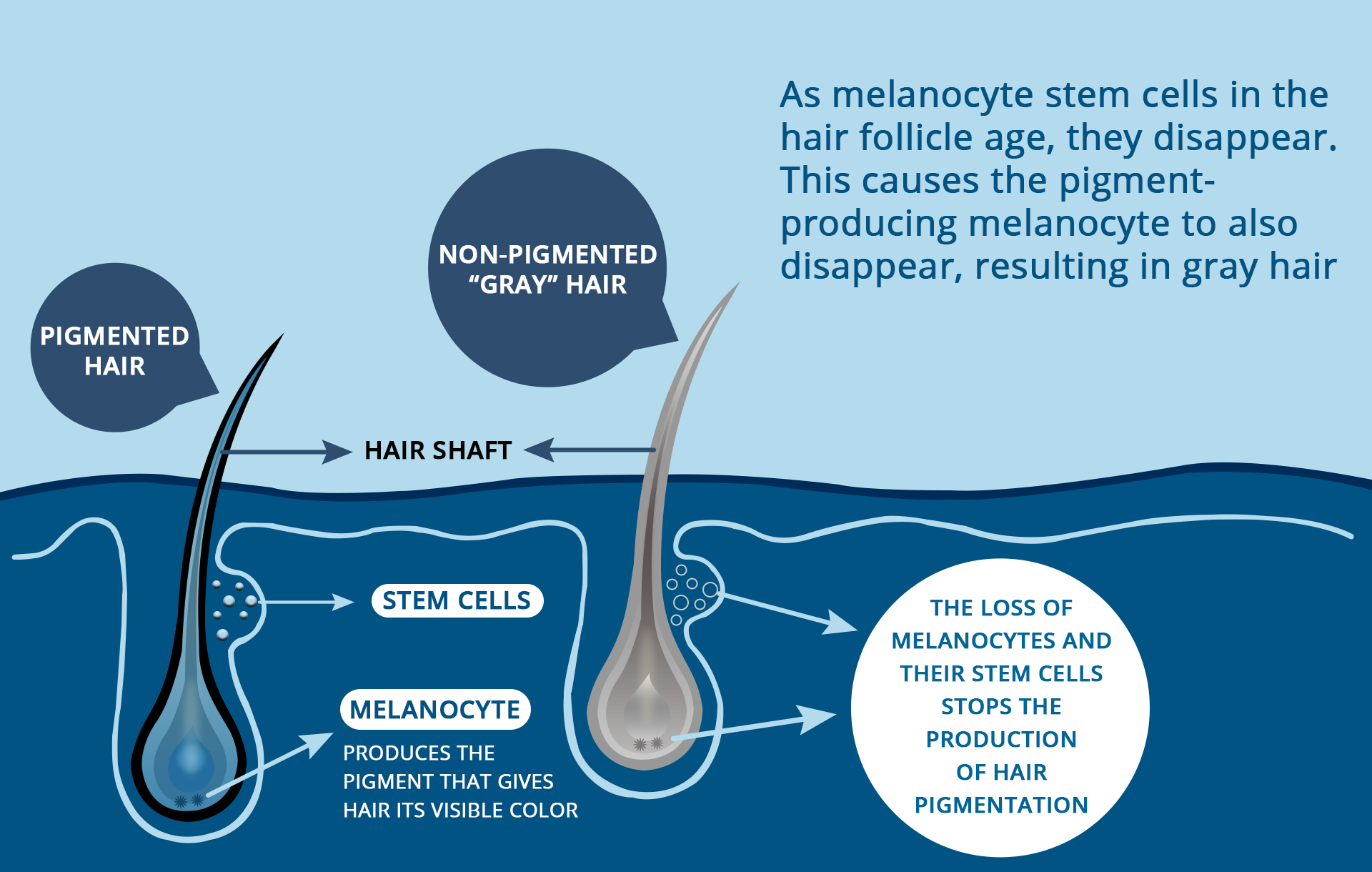 Pigmentation Factors
Hydrogen Peroxide Build Up
High levels of hydrogen peroxide are thought to disrupt the production of melanin. Catalase, a natural enzyme found in your hair follicles, breaks down hydrogen peroxide. As hair follicle cells get older they begin to lose catalase.2
Environmental Factors
There are several environmental or lifestyle factors that may contribute to graying of the hair. Stress is often casually associated with 'going gray'. As an example, smoking is chemically stressful on the whole body, and has been associated with gray hair.3
Foligray Ingredients
The Foligray formula is made with vitamins, minerals and natural botanicals that offer a number of health-related benefits:
Catalase
Catalase is an enzyme that catalyzes the change of hydrogen peroxide to water. Hydrogen peroxide has been the subject of a number of studies in relation to the oxidative damage it causes, particularly in the context of hair structure and pigmentation (hair color).2
Pantothenic Acid
Pantothenic acid, otherwise known as vitamin B5, is sourced from either your diet or through supplementation. Pantothenic acid supports hair pigmentation, healthy hair, natural hair growth, and adrenal health. The adrenal glands produce hormones that help our body deal with stress. This is why some people who deal with heavy stress are more likely to benefit from supplementation of vitamin B5.4,7
Copper
Healthy levels of nutritional copper appear to support the activity of tyrosinase, an enzyme responsible for pigment production. Foligray contains a healthy serving of copper to further support the process of gray hair nourishment.5
Zinc
Zinc is an important mineral for strong hair and healthy skin. Dietary zinc can also support a healthy immune system.6
Benefits of Foligray
The ingredients in Foligray may provide a number of benefits relating to the natural process of hair pigmentation. These ingredients also help to support healthy hair.
Helps to Nourish the Hair Pigmentation Process
Within its blend of natural botanical extracts, vitamins, and trace minerals, Foligray helps to support healthy levels of l-tyrosine, a precursor to melanin (the color in your hair). Copper, alongside other ingredients such as folate and pantothenic acid, helps to nourish your hair pigmentation system.4,5,7,8
Provides Catalase
The Foligray formula features an ingredient called catalase. Catalase is an enzyme that occurs naturally in your hair structure and is responsible for the reduction of hydrogen peroxide to harmless water. Healthy catalase levels help to support the quality of your hair and the health of your hair follicles. Your hair's catalase levels will naturally diminish with age.2
Supports Strong, Healthy Hair
The Foligray formula is not only designed to nourish hair pigmentation, it also contains a range of vitamins and minerals that support healthy hair and the hair growth process. These include zinc, silica from Horsetail stem, B-vitamins, folate and pantothenic Acid.4-8
What Can I Expect?
Nourishment and support for healthy hair.
A supply of nutrients to support hair pigmentation.
What Not to Expect?
Overnight success. Foligray is a natural hair color support formula, but it won't work overnight.
A cure to 'fix' gray hair. The Foligray formula supports the nourishment of healthy hair and pigmentation. It's not a canities drug or treatment.
Testimonials
Already a customer? Write your review now ‍
Very happy with the results -
Herbert
Could not speak more highly of this product and the Foligray team. Super nice customer service on the phone.
‍ Yes, I would recommend this product
Starting see less grays -
Michelle
Starting to work a little bit better now.
‍ Yes, I would recommend this product
Definitely noticing results more -
Taylor
I'm already seeing results and I still have 3 bottles to go.
‍ Yes, I would recommend this product
I started using this product a couple of months ago and it seems to have slowed the graying down.
‍ Yes, I would recommend this product
Click here to read all reviews.
Talk in the Media
Graying of hair has been the subject of discussion by many well-known media outlets, education facilities, and medical institutions.

"Hair goes gray as cells called melanocytes at the base of each hair follicle get damaged by disease, environmental exposures or simply age."
Published by The New York Times, July 2017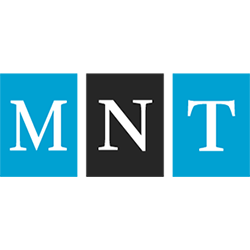 "Low copper levels can lead to premature graying, according to one 2012 study. Good food sources of copper are beef liver, lentils, almonds, dark chocolate, and asparagus."
Published by Medical News Today, December 2017

"Vitamin B-6 is important for both your metabolism and your immunity. If you don't get enough vitamin B-6, you may develop symptoms like dry hair, cracked lips, and fatigue."
Published by Healthline, May 2019
Buy Foligray
Support your natural hair pigmentation process with Foligray. Order 4 months' supply and receive 1 bottle free!
FAQs
Below are some of the most frequently asked questions by our customers:
‍1. How do I use Foligray?
You should take 2 capsules of Foligray daily with a meal.


‍2. How many capsules are in 1 bottle of Foligray?
Foligray contains 60 capsules in every bottle. This is the equivalent to a 1-month supply at directed use.
‍3. How long does it take for Foligray to work?
The effects gained in using Foligray will be different for each user, however, the majority of our customers report their best results after a 90-day period. Individual results may vary depending on lifestyle, diet, genetic factors and stressors.
‍4. Do I need a prescription for Foligray?
No. Foligray is available for purchase without a prescription.
‍5. Do I need to change my lifestyle to use Foligray?
While you do not need to make any lifestyle changes, it is recommended that you maintain a balanced diet with regular exercise.
‍6. How long does it take for delivery?
Orders are processed immediately and shipping depends on which option you choose:
| Description | Price |
| --- | --- |
| USPS - Standard (3-5 business days) | $4.95 |
| USPS - Second Day (2-3 business days) | $9.95 |
| UPS/DHL/USPS – Tracking International (12-15 business days) | $9.95 |
‍7. Do you ship internationally?
Yes. We have global distribution to 20 countries worldwide. The list of countries is available in the first step of checkout.
‍8. Do you accept gift cards as a valid form of payment?
No, unfortunately, we do not currently support gift cards as a valid form of payment for our products.
‍9. Will I be billed for reoccurring payments after I complete my purchase?
No. When you place an order with us, it is a one-time purchase. You will not be placed into a reoccurring billing or subscription model. We are confident that you will be satisfied with our product, and leave re-ordering in your hands.
‍10. Can I return my unopened bottles of Foligray?
Yes, we stand behind this supplement 100%, so we're more than happy for you to return your unopened bottles of Foligray within 5 months of purchase.